May 2011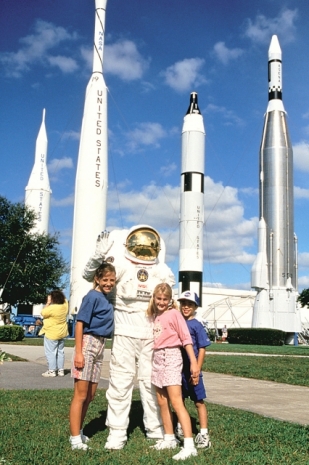 No, it's not me in the suit. But I do lead tours in the Rocket Garden behind him.
If you're a regular reader of this blog, you know (1) my wife and I moved to Florida almost two years ago, and (2) I've posted less and less in recent months.
I've posted occasional updates about our Florida adventure, which was motivated mainly by our desire to live in the "Space Coast" which is the local nickname for Cape Canaveral, Cocoa Beach, Merritt Island and nearby locales.
One major objective was to be hired as a Communicator at the Kennedy Space Center Visitor Complex. And after nearly two years of waiting for a position to open, I was hired last month.
A Communicator is a tour guide, but also much more.
We've been described as "NASA experts" and "NASA ambassadors." Technically we don't work for NASA. We work for Delaware North Parks & Resorts, which has the contract to run KSCVC for NASA. But the public doesn't know any different, and of all the NASA contractors we're the only ones allowed to wear the NASA logo.
I suspect that not all the Communicators are passionate about space exploration, but it helps.
Two positions were open, so when called for an interview I figured I had to do something to stand out. We were told to prepare a brief presentation about the next Space Shuttle launch, so I brought from my collection a Shuttle model to use as a reference.
When I walked into the interview, four people sat on the panel. One was a former astronaut — in uniform — who's now an executive at the park. I'm sure that was to see if we could be intimidated.
Having been around pro ball players and other celebrities for many years, I'm not easily intimidated. But when I saw the "blue suit" as they call astronauts around here, I thought, "If I screw up with any technical details in this presentation, I'm not bluffing my way out of it."
Well, I got the job, so I must have done well enough.
I was told later by one interviewer that when I came through the door with the model, he thought, "This guy knows what he's doing."
Most of my days are filled by leading the Discover KSC tours, which take guests to visit historic locations, including within about a mile of the Shuttle pad.
We're also assigned as "pathfinders," meaning we wander the facilities encountering guests to answer their questions (the most common being, "Where is the bathroom?") and interpret the exhibits. NASA likes the pathfinder roles so much that we're being assigned more locations.
Obviously I have a lot to learn, so it's eating up all my free time. I update FutureAngels.com in the morning, then it's off to KSCVC for the day, and evenings are spent reading books or researching NASA technology on the Internet.
As much as I love the Angels and their minor leaguers, I feel like I've been given a higher calling. People from all over the world come to visit KSCVC, especially near launch time. We are ambassadors not just for NASA, but for the United States.
I gave serious thought to shelving FutureAngels.com this spring, but finally decided it was too important for those of you who follow the Angels' minor leaguers to shut it down. For now, though, it's in second place in my life. Hopefully you understand.
Posted on May 8, 2011 at 6:23 pm

Filed in:

Dailies
Tyler Chatwood pitches for the Rookie-A Tempe Angels in July 2008.
I've always been a bit of a skeptic about Tyler Chatwood.
He has talent. No quarrel there.
But he's never made a FutureAngels.com Top 10 Prospects list since he was selected in the second round of the June 2008 draft and signed shortly thereafter.
Baseball America ranked Chatwood among Angels top prospects at #11 in the spring of 2009, #14 in 2010, and #2 in 2011 behind Mike Trout.
I've always had two concerns with Chat.
One has to do with his height. Tyler is listed at 6'0″. There's a perception among both baseball professionals and some sabermetricians that the best starting pitchers are tall and lanky.
Personally, that doesn't concern me much, as I've always believed that if Chatwood pitched effectively then "size matters not," to quote Yoda.
My main concern was with Tyler's high walk rate.
Take for example the game depicted in the above photo. July 22, 2008. The Tempe Angels hosted the Peoria Padres. It was about a month after Chatwood signed. In four innings, he struck out five, walked four, and gave up four runs on three hits.
It's foolish to judge a player by one game, but that performance has always stuck in my mind because it was somewhat typical of what happens when Tyler loses his control.
From behind home plate, I could see that killer 12-6 curve. The problem was he struggled to throw it accurately.
A high walk rate has plagued Chatwood throughout his career.
In his first three minor league seasons, he averaged 7.6 strikeouts and 4.8 walks per 9 innings. Promoted to Double-A Arkansas for the second half of 2010, in 12 starts he averaged only 3.6 walks per 9 IP but his strikeout rate also dropped to 4.7. I was told that he was being very efficient, getting a lot of groundball outs early in counts.
I knew that, internally, the Angels this last winter were very high on Chatwood, and there were whispers he was on the fast track to the big leagues even though he just turned 21 last December.
He began 2011 with Triple-A Salt Lake. With Joel Piniero injured and Scott Kazmir ineffective, Tyler found himself in the big leagues for his debut on April 11.
After six starts, he's walked more than he's struck out — 4.9 strikeouts and 5.6 walks per 9 IP. Yet he's survived. His ERA is 4.08. He's getting his groundouts, having thrown eight double-plays in 35 1/3 innings.
I keep wondering how long his luck will hold out, yet last night against the 21-9 Cleveland Indians he went eight innings, allowing one run on two hits, striking out five while walking five. He threw 111 pitches, about 13.9 per inning, and pitching coaches like to see a pitcher average 10-15 pitches per inning. He may be walking a lot, but he makes up for it elsewhere.
How long can his luck hold out before the walks catch up with him?
Or the more optimistic question would be, how long before the walk rate tails off and Chatwood establishes himself as a reliable major league pitcher?
The Angels sent Matt Palmer to Salt Lake in late May, so clearly management has decided that Chatwood is in the majors until further notice.
Even with the high walk rate, Tyler is really making me wish I'd included him on that Top 10 list last November.